April 1st, 2012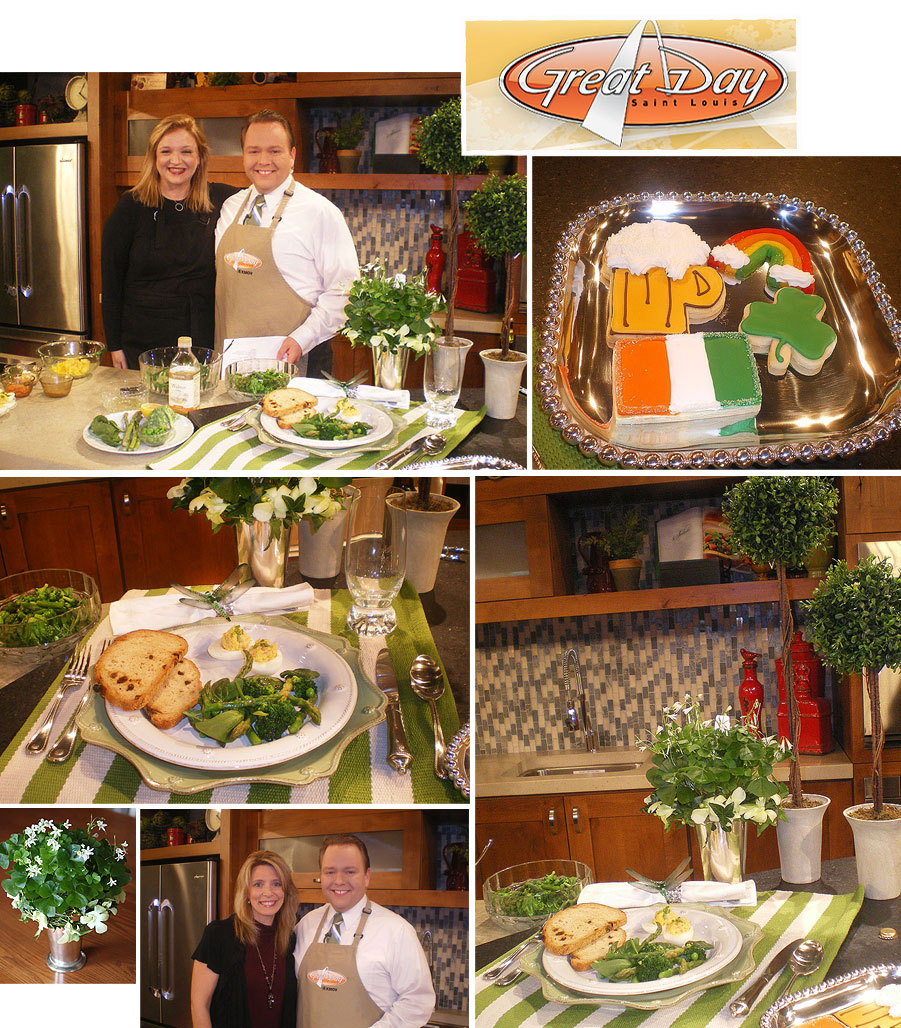 We were very lucky to have been invited to Channel 4′s Great Day St. Louis to showcase our two delicious recipes for St. Patrick's Day.  We featured the very healthy and green Luck of the Irish – Emerald Salad and delicious Dublin Deviled Eggs.
Below is a link to our segment, in case you want to see the recipes.  They are great for St. Patrick's Day or anytime of the year. CLICK HERE TO WATCH THE VIDEO or click on the image below.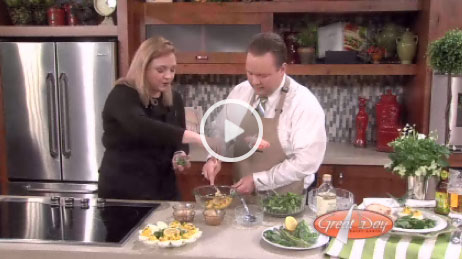 The crew on Great Day St. Louis, as always, made us feel at home and relaxed.  I was interviewed by Matt Chambers, one of the hosts on Great Day, and he had me laughing throughout my interview.  Many people have asked me before if Matt is as funny in person as he is on camera and the answer is YES!!!  Matt is one of the nicest people I have ever worked with.  And the segments I did with Carol have always been fun… if you've ever been on Great Day, you know that Carol has this incredible ability to make you feel relaxed.  Although I have never worked with Virginia and Kent, they also seem to be very nice and funny.
Big kudos goes out to Karen Hohlen, our Partytipz.com sous chef and assistant for the day.  Karen made sure everything was set-up properly and looked beautiful… she did a great job!
We've received e-mails with questions in regards to where we got some of our items for our set-up.  Here is a list of retailers who helped us make our segment look great.
Thanks to Mary Tuttle's for the plates, silverwear, topiary trees, and jute rug (we used for a placemat).  They also provided the beaded Mariposa tray for the cookies. The dragonfly napkin ring actually had wings which moved!
Colleen's Cookies provided the St. Patrick's Day themed cookies.  They didn't make it on camera, but were winners nevertheless!
Petals Galore provided the adorable three leaf clover arrangement in a silver mint julep cup (in front of the topiary trees).  I have never seen a three leaf clover plant, so it was incredible to see the flowers they produced and how gorgeous it can be as a centerpiece on St. Patrick's day.  I believe they are only about $3.50 a plant, so they are cost effective as well!