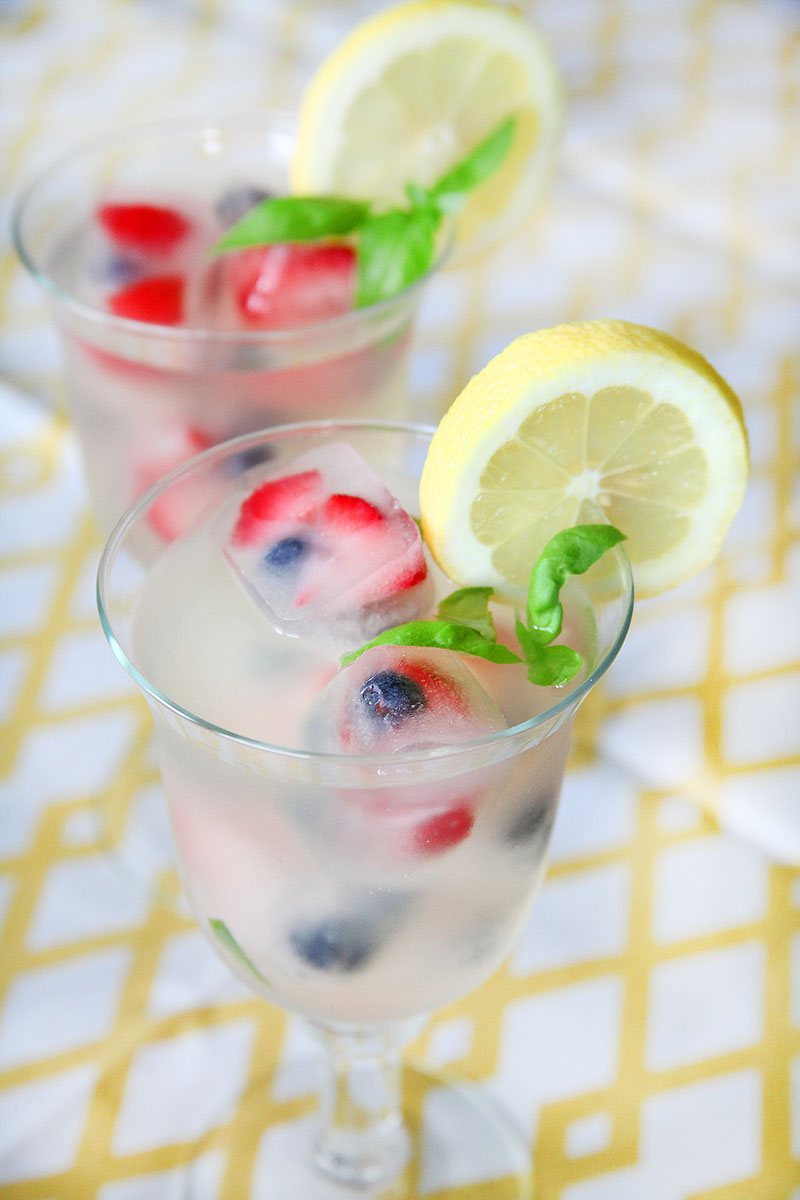 Brace yourselves, because I'm about to introduce you to a fabulous drink that not only YOU will enjoy, but your party guests as well.  Its key ingredient… of course lemons… but the other is agave nectar!  I've heard "agave this" and "agave that" for years.  But to be honest, I don't have too many issues agains sugar, so as long as there is moderation, I don't really mind using it in my drinks and desserts.  HOWEVER… I had to learn more about this agave nectar everyone is buzzing about.  So, I did and I must say… I really like it!  Plus, it's kind of cool to tell people that they are drinking a delicious concoction you created with agave nectar!  If you are interested in learning the difference between agave and sugar, here's a link to a great article.
Lastly, I highly recommend you make the ice-cubes.  They really add personality (and the actual blueberries) to this drink.  Oh, one more thing… if you would like to save calories, you can flavor your Fresca with this lemonade.  I will use 1/2 glass of lemonade and 1/2 glass of Fresca and it makes a wonderful lower calorie version of this drink.  Also, if you would like to take this drink up a notch, add a shot of vodka, and you're set!  Well enough talk… here is the recipe.
Ingredients
Ice Cubes (these are very important)
2/3 cup agave
2 cups water
1 cup blueberries (I added strawberries as well)
Fresh Lemonade
2/3 cup agave
4-5 cups water
1 cup fresh squeezed lemon juice (about 5-6 lemons)
1 fresh-sliced lemon
3-6 basil springs
For Blueberry Ice Cubes
Combine agave with water.  Pour into an ice cube tray.  Add whole blueberries (I added strawberries too) and freeze for 3 hours or more.
For Fresh Lemonade
In a large pitcher, combine lemon juice, 4-5 cups of cold water and agave until desired sweetness is achieved.  Chop 2-3 springs of basil or mash up the leaves.  The goal is to get the oils out of the leaves.  You may drop the chopped pieces in the lemonade.  You may want to fish out the basil before serving, although I leave mine in the lemonade.  Chill in the refrigerator for one hour.  Serve with blueberry ice cubes, fresh lemon slices, and basil springs.