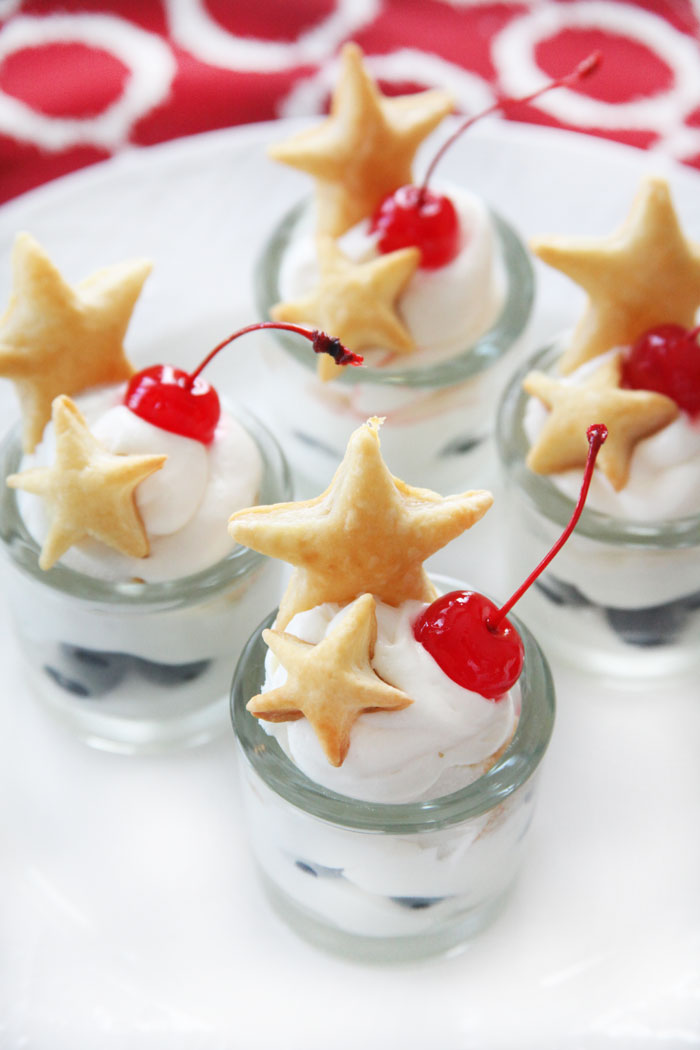 Bite sized, delicious, and of course… gorgeous!!  Wait until you see these beautiful little trifles sitting on your dessert table.  I highly recommend you chill them since the cream cheese filling tastes a lot better when its cold.  A great "make-ahead" treat!
Ingredients
1 sheet puff pastry dough
8 oz cream cheese
1/2 can condensed milk (or 1/2 cup powdered sugar)
1 tsp vanilla extract
1 cup mixed berries (blueberries and strawberries)
1/4 slice angel food cake, cubed
Preparation
Preheat oven to 400 degrees.
Thaw the puff pastry sheet at least 45 minutes and roll out a bit to make slightly thinner, wider, and longer.
Take your cookie cutters and cut out small star shapes using as much of the dough as you can. If you are left with dough, you can roll out the dough and cut out the stars again, but I have to warn you, manipulating the puff pasty does something weird to it, so those stars will come out looking "different" then the original ones.
Bake the stars for 15-20 minutes, depending on your oven, until they are slightly brown. Make sure they do not burn. You can also brush them with egg wash to make them a bit darker on top.
Let the stars cool and set aside
In the meantime, create the cream cheese filling by beating the cream cheese at medium speed with an electric mixer until creamy; gradually add sugar and vanilla, beating well.
Spoon or pipe the cream cheese filling into a shot glass. I would highly recommend you "pipe" the cream cheese into the glass, it just makes it look better. If you don't have a piping bag, just use a sandwich bag with a whole in it. That is how I made mine. Start piping in layers. First, pipe in a bit of cream cheese, top off with berries, then pipe in a bit more, add a few cubes of angel food cake, and top off with more cream cheese filling. Then add a few small puff pastry stars and a red maraschino or fresh cherry. You can also use berries if you instead of cherries, if you like.