July 3rd, 2020
If you've never heard of tapenade, it's a Provençal name for a dish consisting of puréed or finely chopped olives, capers, and anchovies. Its name comes from the Provençal word for capers, tapenas.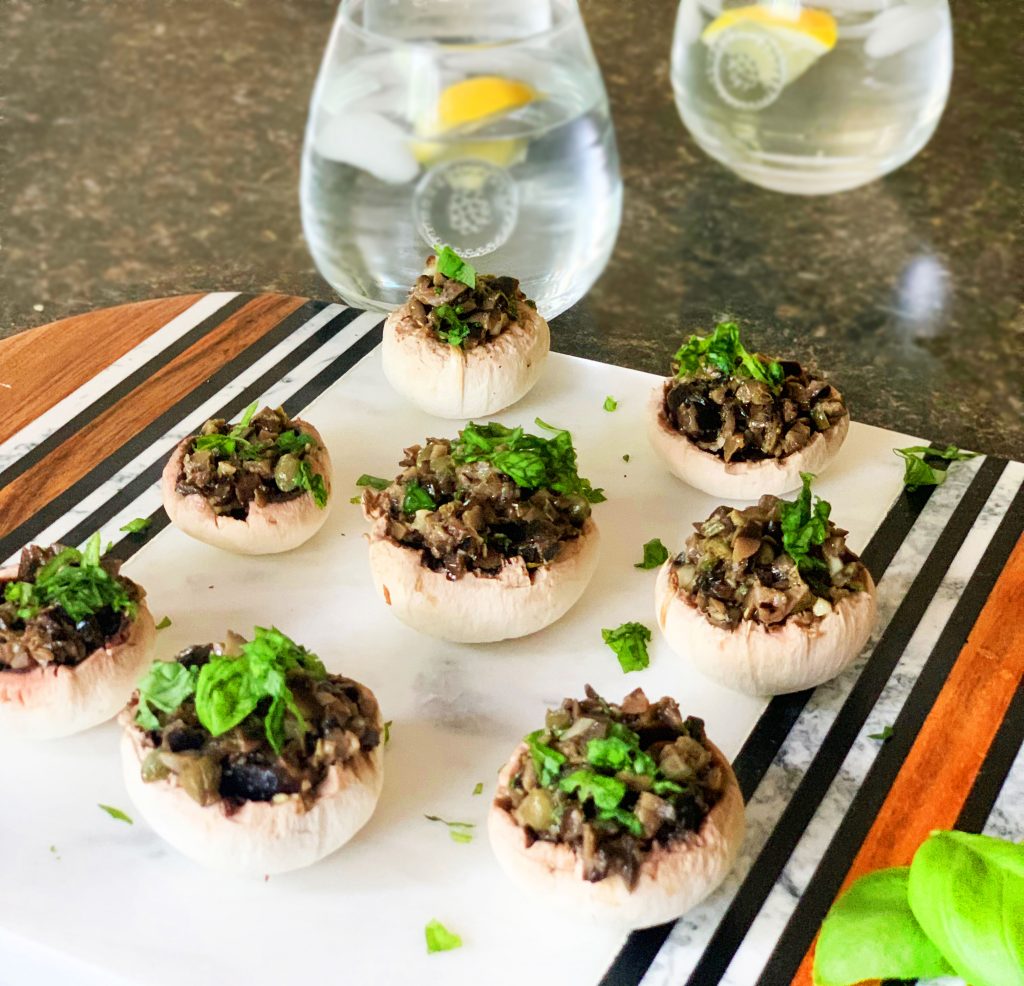 What I love most about this dish is that it is easy to make, healthy, and can be used as a filling or a dip. You can also easily make it vegan (simply omit the anchovies) and still maintain the integrity of the recipe.
I was inspired to create this dish while visiting St. George, Utah and enjoying lunch at a local restaurant named Xetava. Their tapenade was served with Lavash crackers and I fell in love with it. So, when I got back home to St. Louis, my first thought was to try re-creating the recipe but adding my own twists. The beautify of tapenade is that it is very customizable and you don't even have to have the exact measurements to make it. Just know that black olives (you can use green as well or mix the two) are going to be your main foundation. I typically start out by using a full cup of olives which I rough chop, and add ingredients little by little tasting and chopping the mixture as I go. If I'm throwing a party, I'll add just one clove of garlic for flavor. If I'm making the tapenade for myself, to have for lunch, I can add up to three cloves of garlic… I LOVE GARLIC! I do the same with lemon juice. I can add the juice of a half a lemon if I'm making the appetizer to take to a party or add the entire lemon if I'm making it for myself. Just depends on how I'm feeling that day or who I will be serving it to.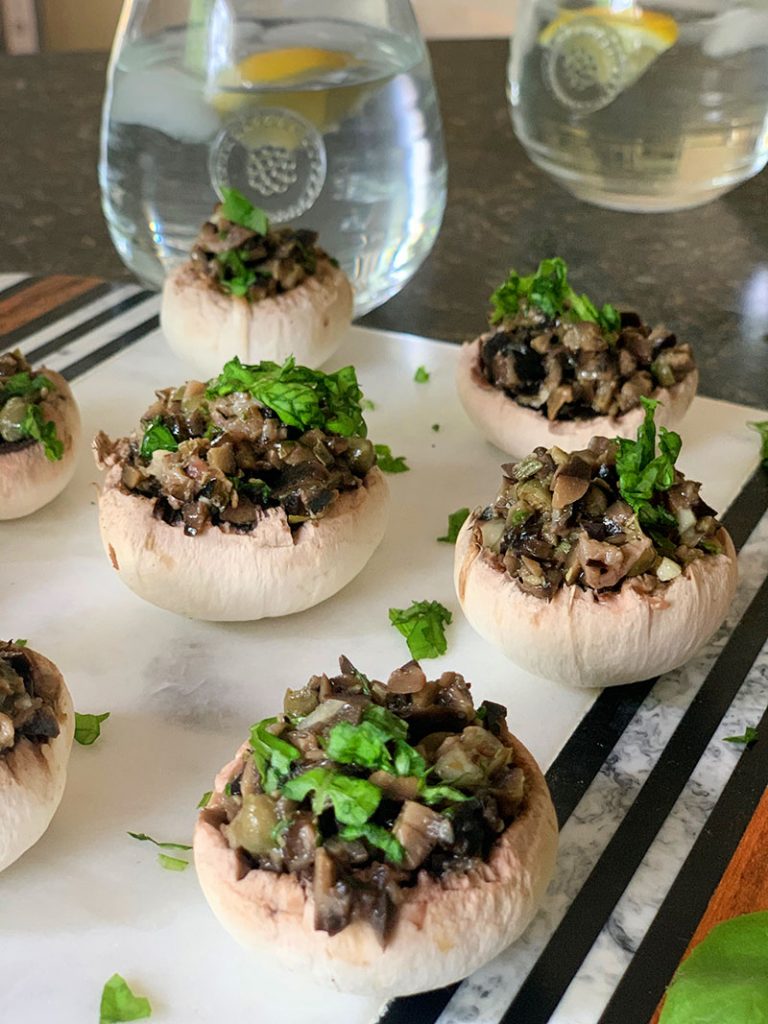 The key to this recipe is to taste as you go. Once you hit your perfect flavor, you can finish it and serve. And don't forget to put your own twists on this recipe. Some people add roasted peppers, sun dried tomatoes, and so much more. Don't be afraid to try new ingredients, herbs, and seasonings. This dish allows you to customize as much as you like.
Most people use a food processor to make this. However, I just chop by hand as I go. Each time I add an ingredient, I mix it into the mixture and continue chopping. By the time I add the last ingredient, my tapenade is chopped to the consistency I want. To see all my techniques for this recipe, here's a link to a full video.
Last but not least, I decided to omit the bread and instead, serve the tapenade in mushrooms (these mushrooms are fresh, not cooked). It makes for a filling dish that not only tastes fabulous but also good for you. If you omit the anchovies, this dish becomes vegan. If you've never worked with mushrooms, watch the video, which I linked above. It will show you tips on working with mushrooms.
Below is the recipe as I like to make it, but feel free to add more or less of each ingredient… if you hate anchovies, don't use them. If you love capers, use more. Same goes for any of the ingredients listed below. As long as you are using olives as your foundation… you are good!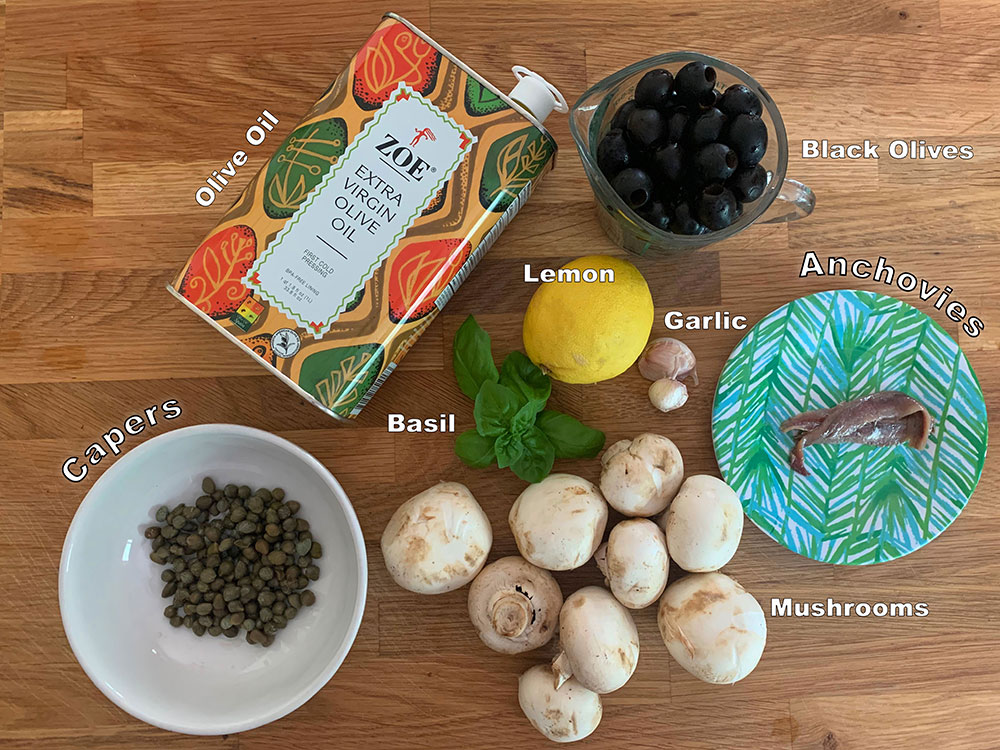 1 cup of black or green olives
2-3 anchovies
1/4 cup of capers
Juice of 1/2 lemon
2 cloves of garlic
1/4 cup of chopped fresh basil
1/4 cup of olive oil
10-12 fresh mushrooms (peeled and cored)