Apple and Goat Cheese Filo / Phyllo Quiches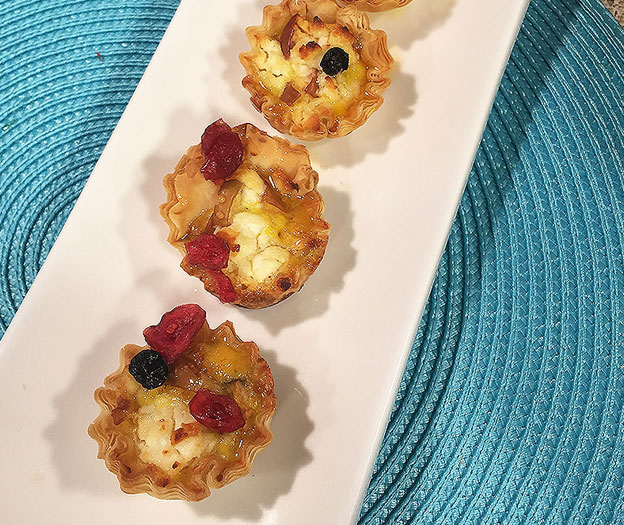 These are super easy and can be made for wine tasting parties, breakfast parties, brunch, lunch, dinner… you name it!! They are beautiful to serve and delicious!!
Ingredients
12-24 Filo/ Phyllo Cups (available in the refrigerated section)
1 Red & Delicious Apple (or any apple you like, as long as it's sweet)
1 tbsp Half & Half
1/2 pkg Goat Cheese
Nutmeg
Dried blueberries and cranberries
Honey
Preparation
Preheat your oven to 350 degrees. Place the Filo/Phyllo Cups in a lightly greased mini muffin pan. Dice the apple and place a few small pieces in each Phyllo cup. Mix eggs, half & half, a dash of salt, and a dash of nutmeg together in a measuring cup. Carefully pour a little bit of the egg mixture in each cup. Finally, put a generous amount of goat cheese on top of each Filo cup. Place the mini muffin pan with the Filo/Phyllo cups in the oven and bake at 350 for 15 minutes. Let cool for 2-3 minutes and arrange on a plate. Drizzle with honey and serve.