Delicious English Scones
Recipe by Jane Winter.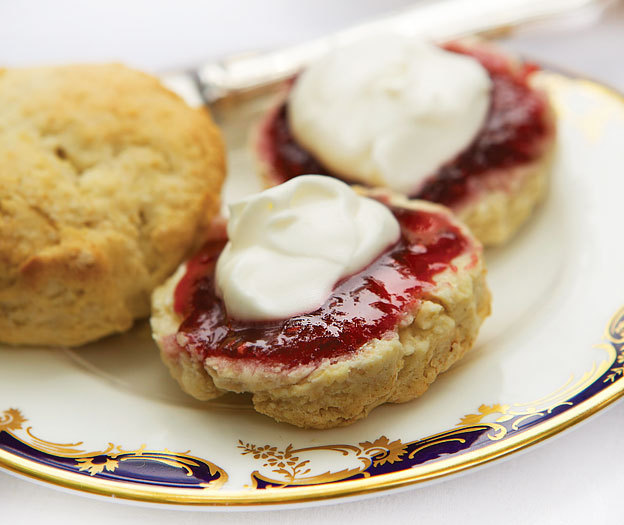 Ingredients
8 oz Plain white baking flour
Pinch of salt
1/2 tsp Baking soda
1 tsp Cream of Tartar
1 1/2 oz Chilled margarine
4 tbsp Milk and water - mixed
Milk for glazing
Preparation
Preheat oven to 450 degrees. Sift together flour, salt, baking soda, and cream of tartar into a wide bowl. Cut up the chilled margarine and rub it into the sifted flour with your fingertips. Gradually add the milk and water and mix with a round bladed knife to give a soft manageable dough. Knead the dough quickly on a floured surface to remove all cracks. Roll the dough out to 1/2-inch thick, and cut out 2-inch rounds with a plain or fluted pastry cutter. Knead the trimmings together, roll them out, and cut as many scones as possible. Set the scones on an ungreased, heated baking sheet, brush with milk, and bake immediately for about 10 minutes until well risen and a light golden brown. Serve them warm with butter or whipped cream and raspberry jam or other preserves.