October 28th, 2020
I have to admit something… I HATE paté! Well, goose, duck, chicken, or beef paté that is. As a Russian immigrant, I grew up around a lot of "spreads" made from various animal products, paté included, which I had a hard time eating. Since these foods are part of my culture and were served at most parties and celebrations, I learned to tolerate them… until one fateful day, when I began taking the initiative and saying "no thank you". No easy feat, since rejecting what is offered to you may risk offending the host… and that is a major no-no at any party… especially a Russian party.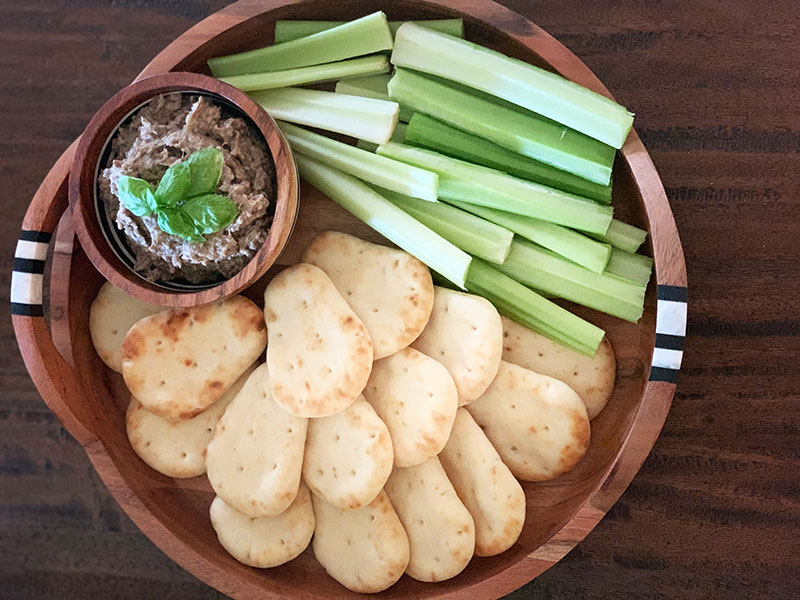 Fast forward to many years later, living a vegan and vegetarian lifestyle has offered me many "outs" simply because everyone knows I don't eat meat. And while going through these crazy COVID times, I have been spending more time than usual watching TV and Youtube learning vegan and vegetarian recipes from all around the world. So, when I saw a Polish chef talk about his mushroom paté I was completely intrigued. Of course… why not make paté out of something other than liver??!
Although I wasn't completely in love with the Polish chef's version, this gave me the opportunity to do some experimenting. My goal was to find a recipe that was a good "base"as well as low-fat. The least amount of ingredients in the least amount of time. From there, I can add ingredients for interest, but if I chose not to, the paté would still be delicious. I also wanted my base recipe to be vegan and low-fat with the option of leveling up to vegetarian or higher in fat count, if I chose to.
So, here it is. This is my recipe for a vegan paté made with mushrooms. I love the taste and hope you do too.
If you want to add some more flavor, consider a couple of tablespoons of balsamic vinegar. Or, for a keto friendly version, you can substitute nuts for bread crumbs. If you prefer a vegetarian option (lactose-ovo), you can add a half a cup of plain yogurt or sour cream, this should really make the spread creamy.
Also, there are so many other great recipes available on the web and Youtube, so if you really want to develop something specific to your taste, go ahead and explore as I did. Enjoy!
16 ounces white mushrooms, cleaned and sliced
1 Onion (of your choice. I prefer red but white is fine too)
1 cup bread crumbs
4 garlic cloves, minced
3 tablespoon fresh basil leaves
4 tbsp Olive Oil
1 teaspoon salt, or to taste Juice of
1 Lemon Black pepper, to taste Instructions
Spray pan with olive oil (about 1 tbsp)
Add onions and cook until they are transparent about 5-7 minutes.
Add mushrooms and cook them until all water has dissolved and the mushrooms are tender and cooked… about 7-15 minutes.
The key is to make sure there is no water left in the pan.
Remove the mushrooms and onions from the skillet and let cool for a bit. To the cooked mushrooms and onions, add 1 tbsp of olive oil as well as the garlic, basil, and breadcrumbs.
Some people also add a bit of balsamic vinegar but that is optional. Transfer the mushroom mixture to a food processor or a vitamix.
Process everything while slowly adding the rest of the olive oil.
Blend the mixture until it's as smooth as you like it — anywhere from coarse and chunky, to a very smooth paste.
Season the pâté with salt and pepper.
Garnish with fresh herbs, if desired.
Serve immediately with veggies, bread and/or crackers, or chill for later.