June 24th, 2020
There are few things that get me excited more than cheesecake. It's one of my favorite guilty pleasures and to be honest, one of the easiest desserts I have ever made. Sure, it takes a bit of time to bake, cool, and set but since I love to prepare most of my party food a day or two prior to the actual party, cheesecakes are the ideal make ahead dessert. And once you've figured out the basic techniques, you can go crazy with the flavors with just a few tweaks here and there.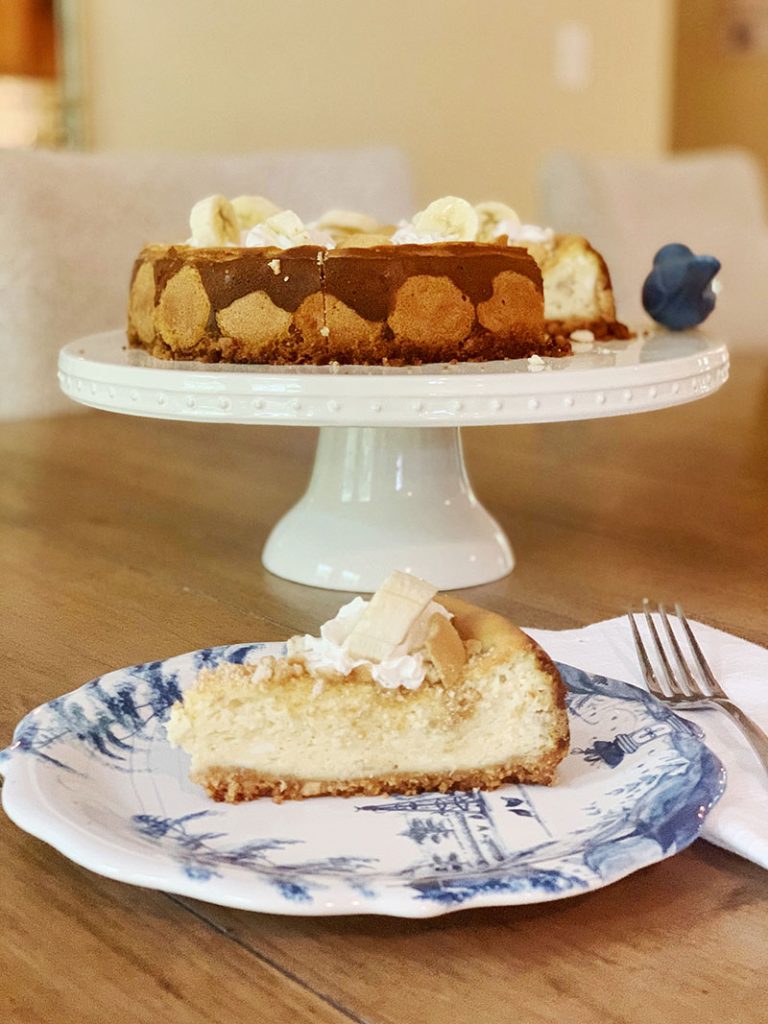 Best of all, this particular cheesecake is a bit "out of the box" since it incorporates bananas. Plus, it's so easy to decorate. With a bit of whipped cream (home made or store bought), lemon soaked bananas, and vanilla wafers, you will be able to create a gorgeous dessert without having to be a professional cake decorator.
If you are visual, you will enjoy watching my YouTube tutorial where I show you all the preparation techniques. The link is below. Enjoy!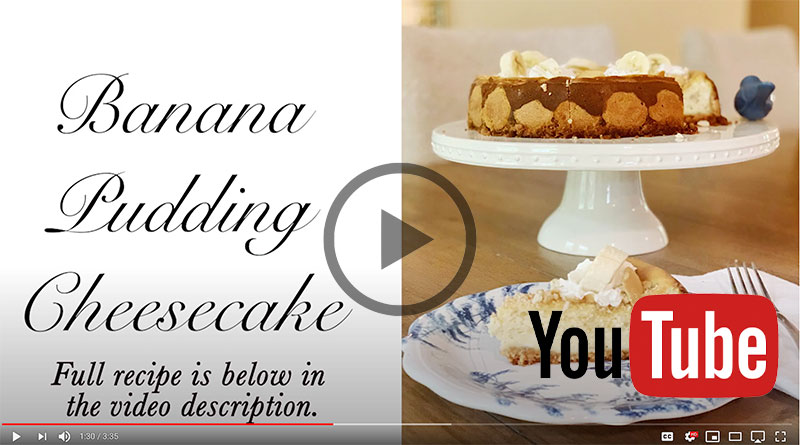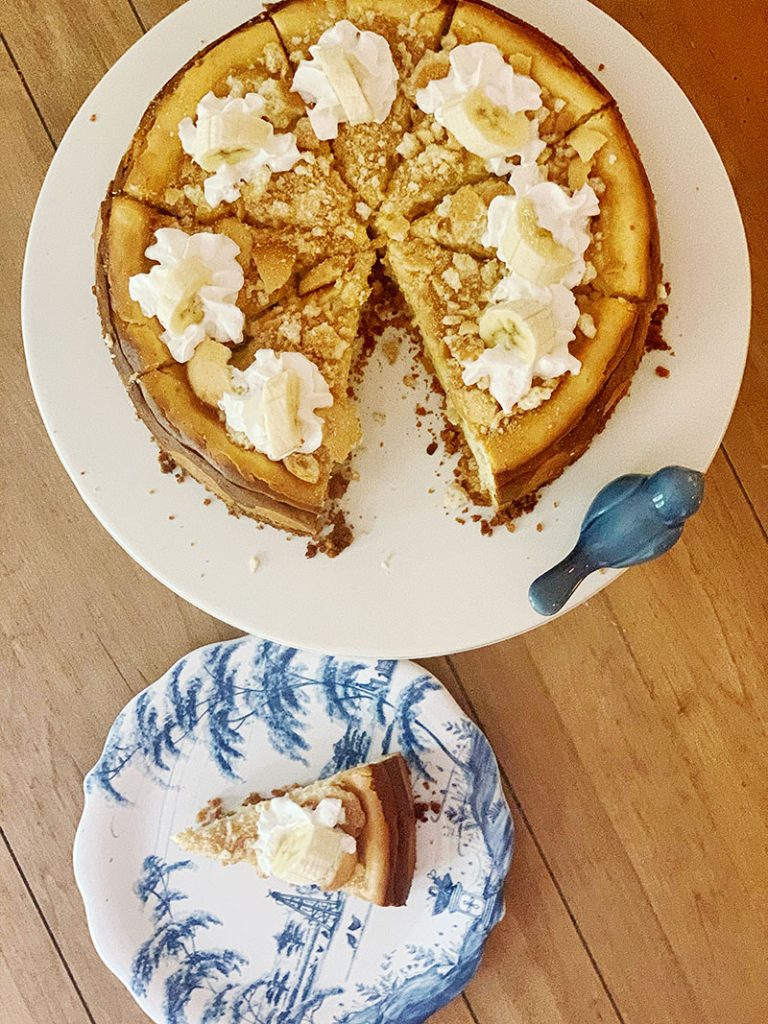 1 1/2 Cups Finely Crushed Vanilla Wafers
1/2 Cups of crushed cashews
1/4 Cup of melted butter
19 Vanilla Wafers (or enough to fit entirely around your springform pan)
3-4 Ripe bananas (diced)
Juice of one lemon
2 Tbsp of brown sugar
3 (8-oz) packages of cream cheese, softened
1 Cup of granulated sugar
3 Large eggs
2 tsp of vanilla extract
1/2 cup of crushed/broken vanilla wafers
Garnishes: Sweetened whipped cream, vanilla wafers, sliced bananas tossed in lemon juice
Preheat oven 350 degrees. In a food processor, process vanilla wafers, cashews, and melted butter. Once it is well blended, press mixture onto the bottom of a greased and floured springform pan. Stand 17-19 vanilla wafers around the springform pan, pressing gently into crust to secure. Put the springform pan on a baking sheet (to prevent butter from leaking on to the bottom of your oven) and bake 8-10 minutes. Cool completely for approximately 30 minutes.
Combine bananas and lemon juice in a small sauce-pan. Add brown sugar and cook over medium heat stirring constantly until the sugar has melted into the mixture, approximately 1-2 minutes.
Beat cream cheese at low to medium speed. Make sure your cream cheese is softened since it will help prevent cracks in the cream cheese during the baking process. Once the cream cheese is ready, gradually add eggs, beating until blended. Make sure to add eggs one at a time and wait until each egg has fully blended into the mixture. Add vanilla. Add the cooked banana mixture. Pour batter into the prepared crust.
Bake at 350 (on a baking sheet) for 55-65 minutes or until center is almost set. Remove cheesecake from oven; gently run a knife around the edge of cheesecake to loosen. Let cool for 20-30 minutes then sprinkle the top of cheesecake with crushed wafers. Remove cheesecake from springform pan. Cool completely for an hour. Place in refrigerator, cover, and chill for 8 hours.