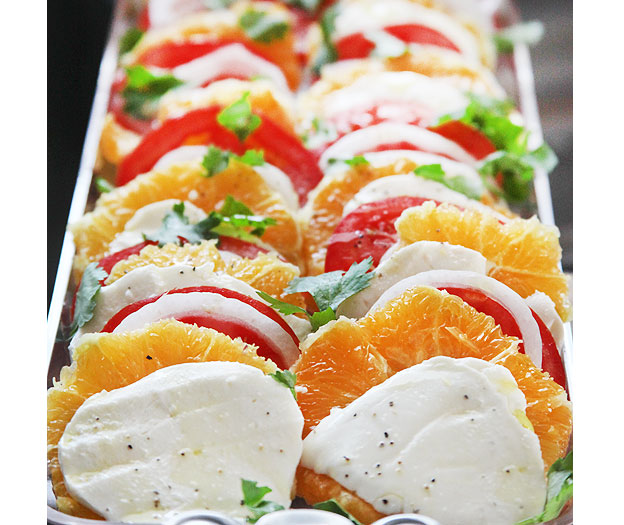 This salad is absolutely incredible!! It's wonderful anytime of the year and even better  with salmon or chicken. It is the PERFECT party salad!
Ingredients
1 medium onion
4 large oranges
4 medium tomatoes
1 pound buffalo mozzarella cheese
1 bunch Cilantro
6 tbsp Olive Oil
Salt and pepper to taste
Preparation
Peel onion and slice it into thin rings. Place in a bowl and squeeze the juice of one orange and one lemon into the bowl. leave to marinate for 30 minutes.Remove the skin and pith from the remaining 3 oranges and slice into six or eight wheels. Remove all seeds.
Slice the tomatoes into 6-8 wheels as well.
Slice the mozzarella cheese into 6-8 wheels
Assemble the salad by alternating the orange, onion, cheese, and tomato.
Sprinkle cilantro all over the salad, drizzle olive oil, and salt and pepper to taste.