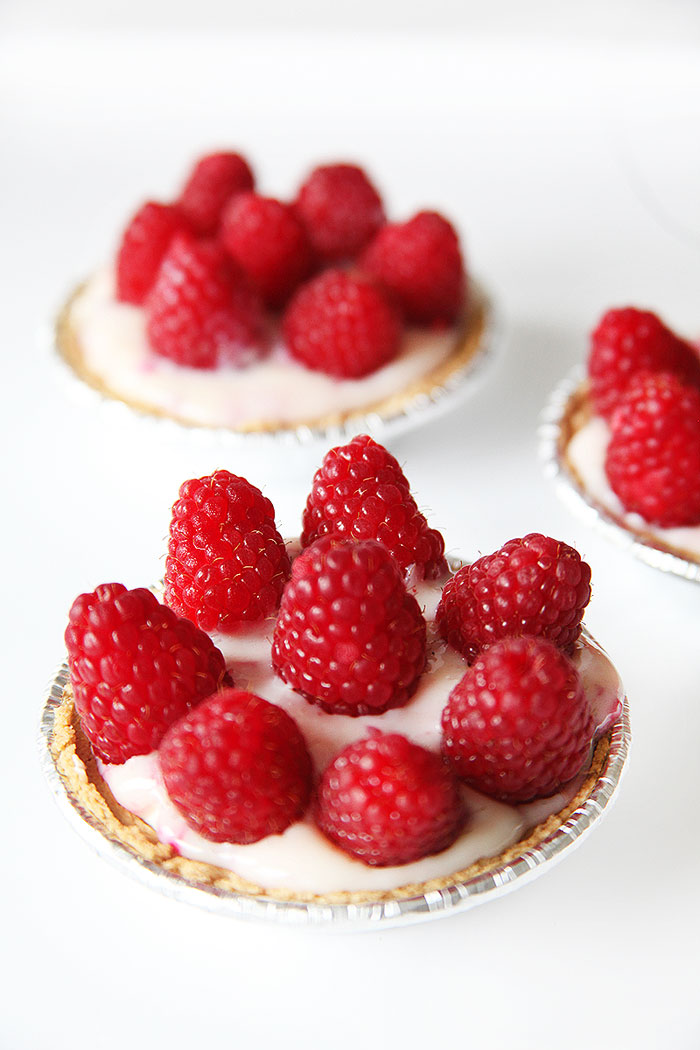 Looking for something to celebrate?  How about because it's friday… it's summer… and it's the first day of August?!  Still not excited? What about the fact that today is National Raspberry Cream Pie Day… yep, thought that would get your attention!  Today we celebrate beautiful raspberries in a delicious pie crust resting inside (or out) of a delicious cream pie filling.  Okay, I have to be honest, I've never made a raspberry cream pie before, so I had to look for an easy recipe.  And here's the good news… I found one! I had to tweak it a bit, but it worked out!   I created mini-pies, that way I wouldn't have to cut into it and everyone would receive a beautiful little mini-pie instead of a piece of pie that tends to get a bit sloppy!  I think they worked out and I highly recommend the recipe!  Enjoy…
INGREDIENTS:
2 (14 ounce) cans sweetened condensed milk
4-5 tablespoons lemon juice
12 oz fresh raspberries
6-8 ounces cream cheese, softened
12 mini graham cracker pie crusts
PREPARATION
Whisk sweetened condensed milk and lemon juice together in a bowl; gently fold in raspberries.

Gently spread cream cheese onto the bottom and sides of graham cracker crusts using a spatula or the back of a teaspoon.  The secret here is to make sure you purchase good crusts and that your cream cheese is WELL softened.  Otherwise, your pie crust will crack.  Divide raspberry mixture between the mini pie crusts… about 2 Tablespoons per crust.  Top with some fresh raspberries.

Refrigerate until set, at least 3 hours.