This Memorial Day I hosted a brunch for a lovely couple who came to visit us from St. Louis.  I made a Russian/American menu for the main course but my most favorite dishes were the desserts!  I scoured Pinterest and found some great inspiration.  Here is a "Patriotic Torte" which I whipped up after seeing a few on Pinterest.  I loved how all the ingredients worked well together.  If you would like to try something different and substitute any of the ingredients, I recommend using puff pastry instead of croissants and yogurt instead of cream cheese.  I'll be trying both of these substitutions when I make this dessert again for the Fourth of July!  Here's the recipe: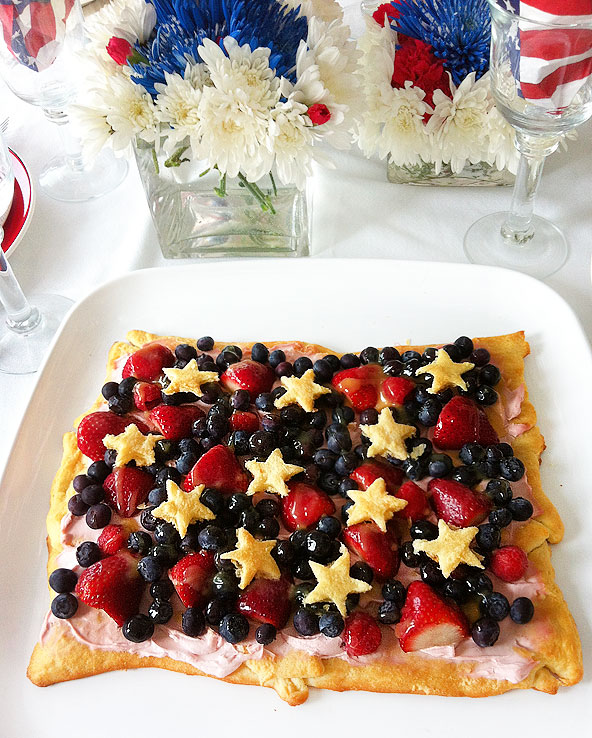 Ingredients
2 cans of croissant dough (or you can use puff pastry)
2 small tubs Strawberry or Blueberry cream cheese
1 carton Strawberries
1 carton Blueberries
1 jar Prepared Lemon Curd (available at any grocery store with the jams and preserves)
Preparation
Roll out the croissant dough but do not take apart. Instead, pinch the seams together so that you can create a solid bed of croissant dough as your "crust". Add the dough from the second can to the crust but reserve 1/4 of the dough to cut out your stars. The other 3/4 of the dough can be added to create the crust. Your end result should be a rectangular croissant crust.With a small or large cookie cutter, cut out the stars and set aside.Bake the crust and the stars according to package directions.Once ready, remove the crust from the oven and let cool.
Once the crust is cool, spread all of the strawberry or blueberry cream cheese on the crust.
Cut strawberries in half and place on top of the cream cheese. Then add the blueberries.
Heat lemon curd in a sauce pan and add about 1/4 cup of water so it liquifies and becomes a thinner sauce. Once it turns into liquid, sprinkle all over the top of the strawberries and blueberries. For best results, brush all the fruit with the liquid lemon curd so they have a shiny appearance.
Presentation
Once the torte cools, you can serve it. However, it is even more delicious 1-2 days after you make it! This is a perfect recipe for preparing "ahead"!