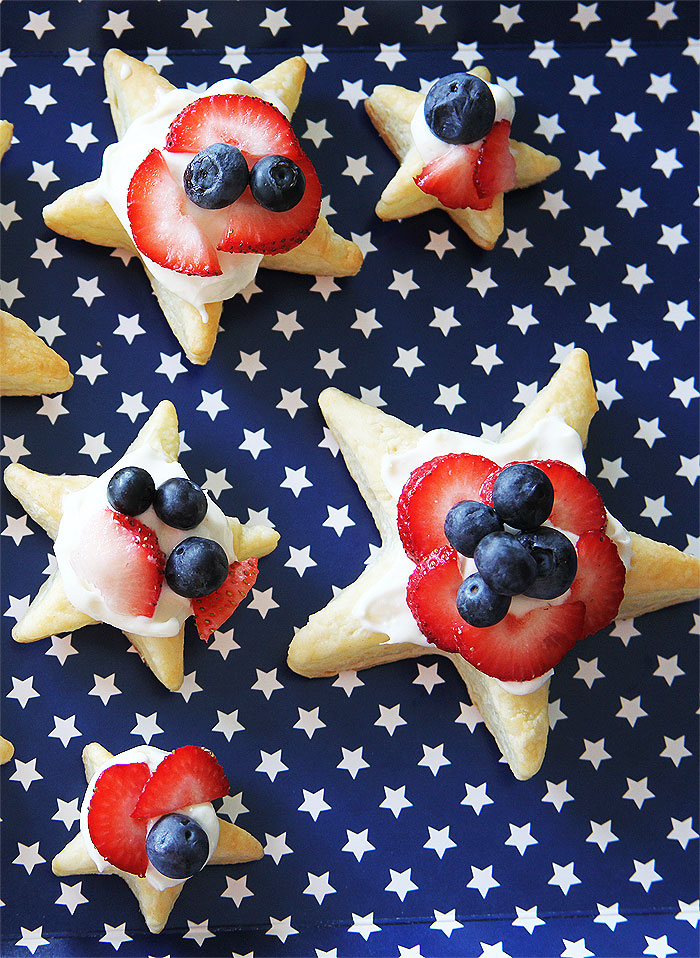 As some of you may know, I went on a 4th of July recipe marathon this month.  I tried a bunch of great recipes.  Some worked and some didn't. Here's a recipe that was really each, fun with the kids, and delicious… Puff Berry Stars!
Ingredients
1 sheet puff pastry dough
8oz container of cream cheese
1/2 cup powdered sugar
1 tsp vanilla extract
1 cup various berries (strawberries, blueberries, or blackberries)
Star cookie cutters (various sizes)
Preparation
Preheat oven to 400 degrees.
Thaw the puff pastry sheet at least 45 minutes and roll out a bit to make slightly thinner, wider, and longer.
Take your cookie cutters and cut out star shapes using as much of the dough as you can (the bigger the stars, the better). If you are left with dough, you can roll out the dough and cut out the stars again, but I have to warn you, manipulating the puff pasty does something weird to it, so those stars will come out looking "different" then the original ones.
Bake the stars for 15-20 minutes, depending on your oven, until they are slightly brown. Make sure they do not burn. You can also brush them with egg wash to make them a bit darker on top.
In the meantime, create the cream cheese filling by beating the cream cheese at medium speed with an electric mixer until creamy; gradually add sugar and vanilla, beating well.
When the stars are done baking, let them cool about 15 minutes.
Spoon or pipe the cream cheese filling on top of each star and top off with berries. Best when eaten right away.