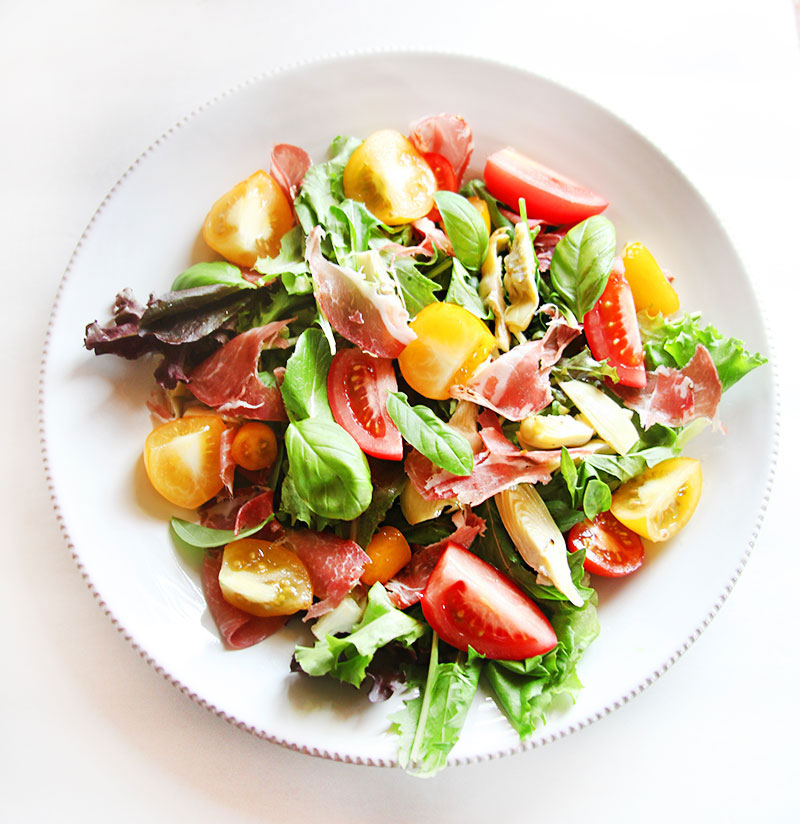 Delicious and unique! This salad is a great treat for brunch, lunch, or dinner!
Ingredients
1 can/jar Marinated Artichoke Hearts
4 small tomatoes (yellow, red, or both)
2 oz Prosciutto
1 large handful of basil leaves
1-2 cups Mixed greens
Dressing
3 tbsp Extra virgin olive oil
1 tbsp white wine vinegar
1 garlic clove crushed
1/2 tsp mild mustard
1 tsp honey
salt and pepper to taste
Preparation
Thoroughly drain and cut the artichoke hearts into quarters and place in a serving bowl. Cut the tomatoes into wedges and cut prosciutto into thin strips. Place a bed of greens in a bowl and add the tomatoes, artichokes and prosciutto. Keeping a few basil springs whole for garnishing, tear the remainder of the leaves into small pieces and add to the bowl containing the other salad ingredients.To make dressing, place all the ingredients in a screw top jar and shake vigorously until they are well blended. Pour over salad, garnish with basil and enjoy with crusty bread!