Football Pirozhki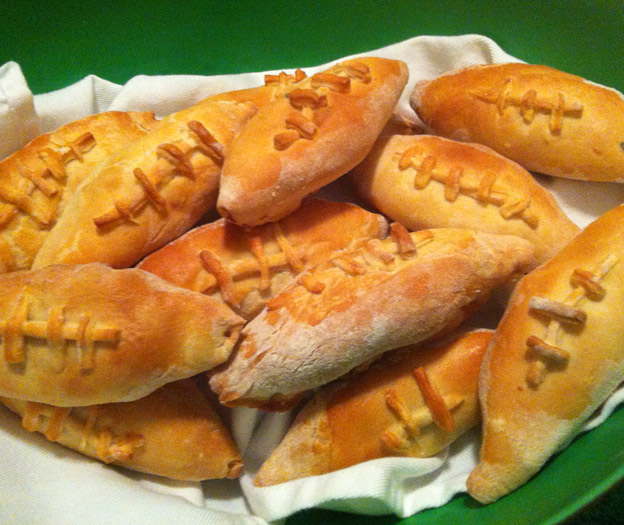 Great for "Game Day" these football pirozhki are perfect alternative to a fatty pizza or high-calorie subs and meatball sliders. Plus, they're so authentic looking!
Ingredients
1/4 cup Olive Oil
2 tins refrigerated biscuits (reduced fat is always a plus!)
1 pound extra lean ground or shredded chicken or turkey
3 hard-boiled eggs, chopped
2 Tbsp chopped fresh dill
2 Tbsp chopped fresh parsley
3 Tbsp finely sliced onion
Egg wash for brushing
salt and pepper to taste
Preparation
Empty out the biscuits. Lightly flour a cutting board or your work surface and separate the biscuits. Roll the biscuits flat. Reserve one flattened biscuit for the seams. To make the meat filling, start by heating the olive oil in a large non-stick skillet over medium-high heat. Add the onion and cook until it is soft and clear in color. Add the meat, crumbling and flattening it with your fingers. Lightly brown the meat (7-10 minutes). Remove from heat. Drain the meat and return to skillet for another five minutes. Remove from heat and put in a large bowl. Mix in hard-boiled eggs, chopped fresh dill, parsley, and salt and pepper. Spoon the mixture into a flattened biscuits. brush the edges of the biscuits with egg wash for better adherence. Fold the biscuit in half and make a half moon shape, seal the dough by pinching it together. Do this with all the biscuits. For the seam, take one flattened biscuit (with no meat in it) and cut very thin strips with a pizza cutter. Make the thinnest strips possible and divide to create several long horizontal seams and several shorter vertical seams. You should be able to cut enough seems for up to 8 pirozhki with just one flattened biscuit. When you are ready to put the seams on the pirozhki, brush them with egg wash, so they will adhere easily to the top. When all the pirozhki are assembled, brush some egg on top and bake in the oven 15-20 minutes on 375 until they are golden brown. Watch the baking process to make sure they do not burn since different ovens bake differently.