Halloween Fortune Cookies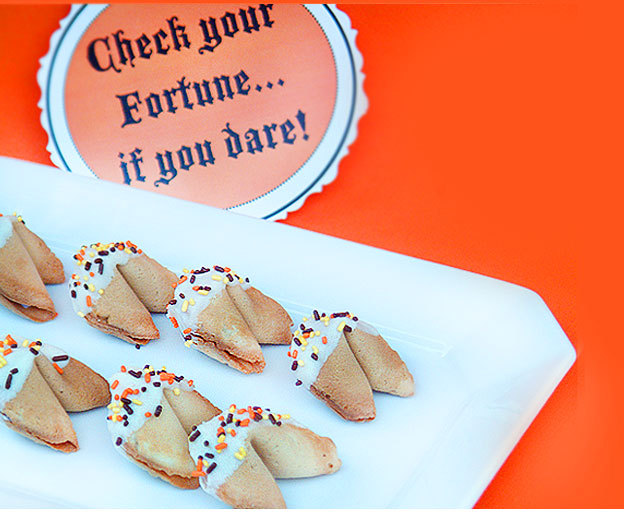 See if you guests are brave enough to check their fortunes on Halloween. Custom fortune cookies are a fun treat to offer at your dessert table. The fortunes can be as funny or spooky as you wish.
Ingredients
1 bag Fortune Cookies
1 bag Candy melts (available at Michael's or any baking and hobby store)
Orange + Black sprinkles (available during Halloween)
Preparation
Arrange the fortune cookies on a sheet of wax paper. Pull out existing fortunes with small tweezers and insert your own (more info. below). Melt the Candy Melts. Dip the front (or back) of the fortune cookies in the melted candy. Cover as much of the cookie as you like. Immediately add sprinkles Refrigerate fortune cookies for 15 minutes or until the candy hardens. Enjoy!
Presentation
If you know what most of your guests may be wearing, you can customize your fortunes to help your guests mingle and get to know each other. For instance "Good luck will find you if you seek out dracula and tell him you like his fangs!" or "The stars will be aligned for you if you pull superman's cape!" Of course, you can also put funny fortunes like "Beware of people dressed up in costume".