Autumn Salad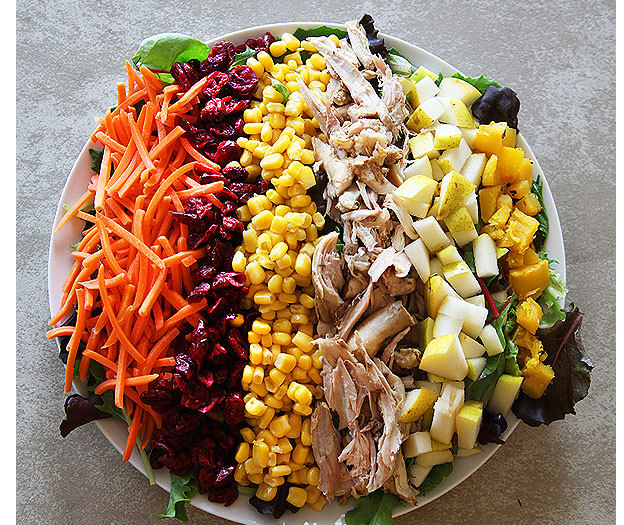 Pears, corn, butternut squash, cranberries... ingredients that make me think of "fall". And it just so happens that this salad has all of them! The sweet taste of pears (or juicy gala apple) beautifully complements the tangy cranberries and fresh carrots. The corn adds color as well as texture. The butternut squash (or even a potato) gives the salad some serious weight and fresh cuts of chicken make this salad a perfect accompaniment to a meal or even a meal all by itself. It also tastes great without the chicken for the vegetarians among you.
Ingredients
1 pkg baby spinach
1 pkg grated carrots
1/2 cup dried cranberries
1 can corn
1 cup chicken breast
1 pear
1 butternut squash (roasted)
Raspberry Vinaigrette Dressing
Preparation
Spread the baby spinach on a platter. Start spreading the following ingredients in vertical lines on the platter... in any order... carrots, cranberries, corn, chicken, pears, and roasted butternut squash. You can also add or substitute apples, walnuts, boiled potatoes, and cheddar cheese. This salad is very versatile, so feel free to improvise. Toss with Raspberry Vinaigrette or any light fruity dressing. If you want to enjoy the flavors of all the ingredients, using a simple combination of oil and vinegar will work as well.
Presentation
For a beautiful presentation, you can prepare it on a platter and allow people to help themselves to the ingredients they like the most. You can serve the dressing on the side. For a simpler look, you can toss all ingredients with dressing in a large salad bowl.