Red Russian Borsch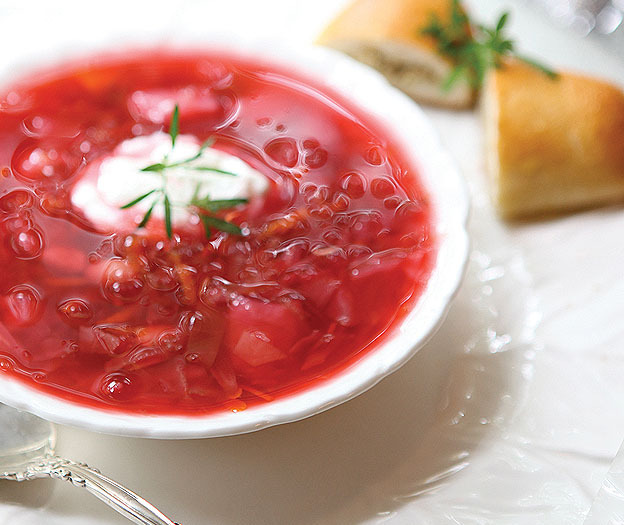 Okay, so this is neither quick or easy, but I guarantee you will impress your guests with this delicious Russian soup. It's beautiful, healthy, and addictive. And as a Russian myself, I couldn't keep this recipe out of my collection. You can serve it immediately hot or refrigerate it and serve it cold. And as with most vegetable soups, it tastes even better sitting in the refrigerator for two or three days.
Ingredients
8 cups vegetable broth
3/4 pound beets
1 pound potato
1 pound cabbage
2/3 cup tomato paste or ketchup
2 slices bacon
2 tbsp butter
2 sliced carrots
1 medium onion
2 stalks celery
1 bay leaf
1 clove garlic
fresh dill or parsley - chopped
sour cream
Preparation
Cut beats into long pieces. Slowly saute beets with bacon and tomato paste or ketchup for 20-30 minutes. In a large soup pot, brown slightly in two tablespoons of butter, sliced carrots, onion, and celery. In the meantime, bring the vegetable broth to a boil. When the vegetables are slightly tender, empty the broth into the large soup pot and add the cabbage. Bring to a boil and simmer for 20-25 minutes or until the vegetables are tender. Salt and pepper to taste.
Presentation
Serve with a dal-op of sour cream.