Apple and Cheddar Crostini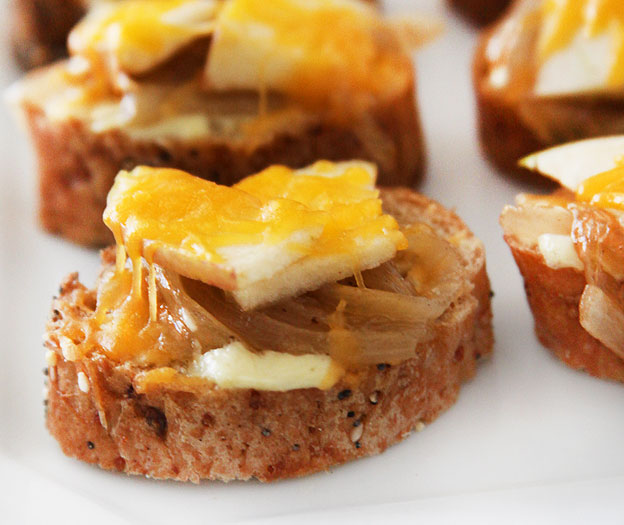 This may be the most delicious appetizer you'll ever make.
Ingredients
2 tbsp butter
1 large onion
1 tbsp packed brown sugar
8 slices baguette (we used multi-grain)
1/2 bag sharp cheddar cheese
3 tbsp Dijon-mayonnaise blend
1 unpeeled medium apple, thinly sliced
Preparation
In a medium skillet, over medium heat, melt butter. Add onion and brown sugar and cook for about 20 minutes, stirring frequently. The goal is to get the onions a golden brown color. You may add more butter if needed. Set oven control to broil. Place baguette slices on an ungreased cookie sheet. Broil for about 2-3 minutes or until the slices are lightly toasted. Take out the slices, spread dijon-mayo blend, spoon caramelized onions evenly, place two slices of apple on top of onion and sprinkle with cheddar cheese. Broil about 1-2 minutes or until the cheese has fully melted.
Presentation
Delicious to serve by themselves or with a bunch of grapes in the center.