If you are one of those people who can't seem to get out of the "cheese and crackers" plate, you will LOVE this article!
A few weeks ago, I invited one of my favorite couples to my place for an "ultimate" cheese experience.  Knowing that cheese was their weakness, I thought… why bother with dinner, we'll just make the appetizer our main meal… needless to say, my guests loved it!
Something I hear from many of my friends is that they can't seem to get creative with the cheese plate.  It seems like it's always an after thought with the main meal taking most of the priority.  Well, here is a cheat sheet of some of my favorite things to add to a cheese spread.  Use all these ideas, or just a few.   I guarantee these items will always be a success!
Marinated Olives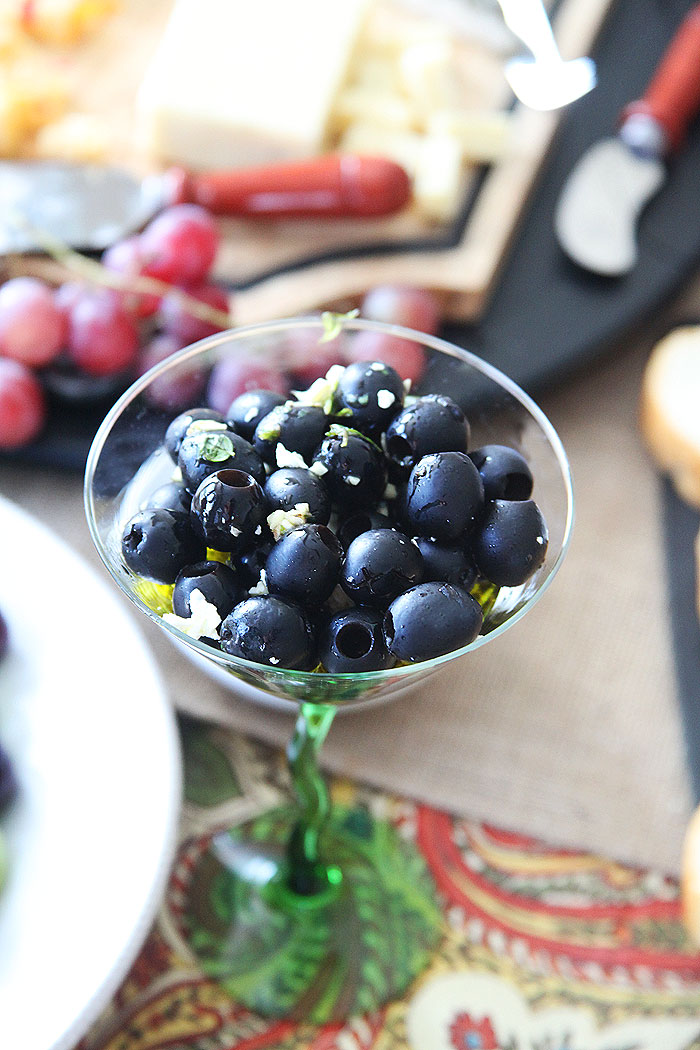 Olives are a staple on a cheese plate, however marinated olives are even better! Most supermarkets have a plethora marinated olives at their deli section and I love that you can buy them by the pound and choose the amount you would like to serve.  However, they tend to be a bit pricey and if you are sticking to a budget, making your own is always a better option.  I simply mix a little garlic (not too much)  and my favorite spices (but not too spicy) in olive oil and pour over my favorite olives.  Let them stand for an hour and you should have a great addition to your cheese plate.
A Variety of Cured Meats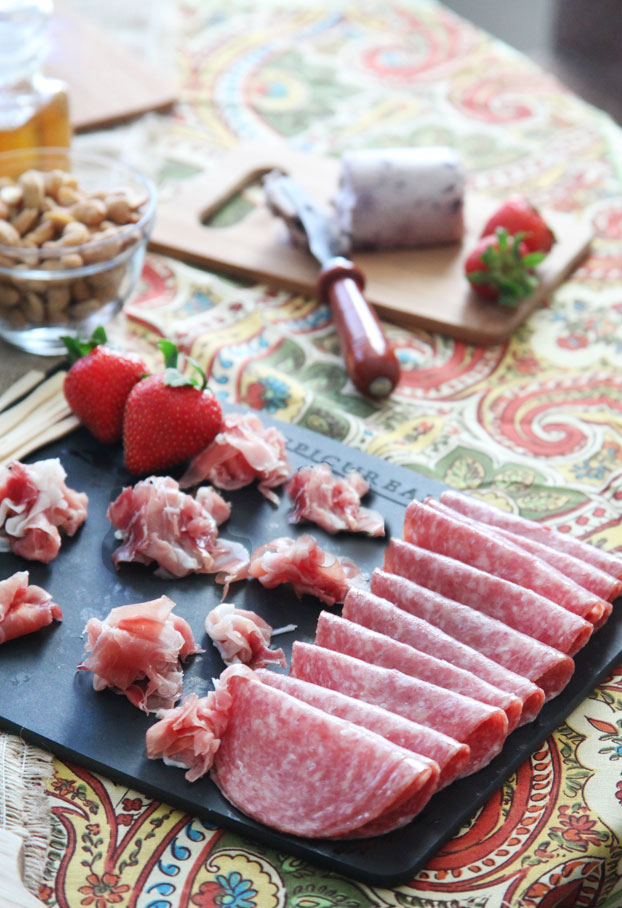 Whether you choose salami, prosciutto, or ham, cured meats are always a delicious addition to any cheese platter.  If you don't like cured meats, you could also serve deli meats, such as roast beef, turkey, or chicken slices.  Your guests will love making their own combinations of cheese, crackers, and meats.
A Variety of Breads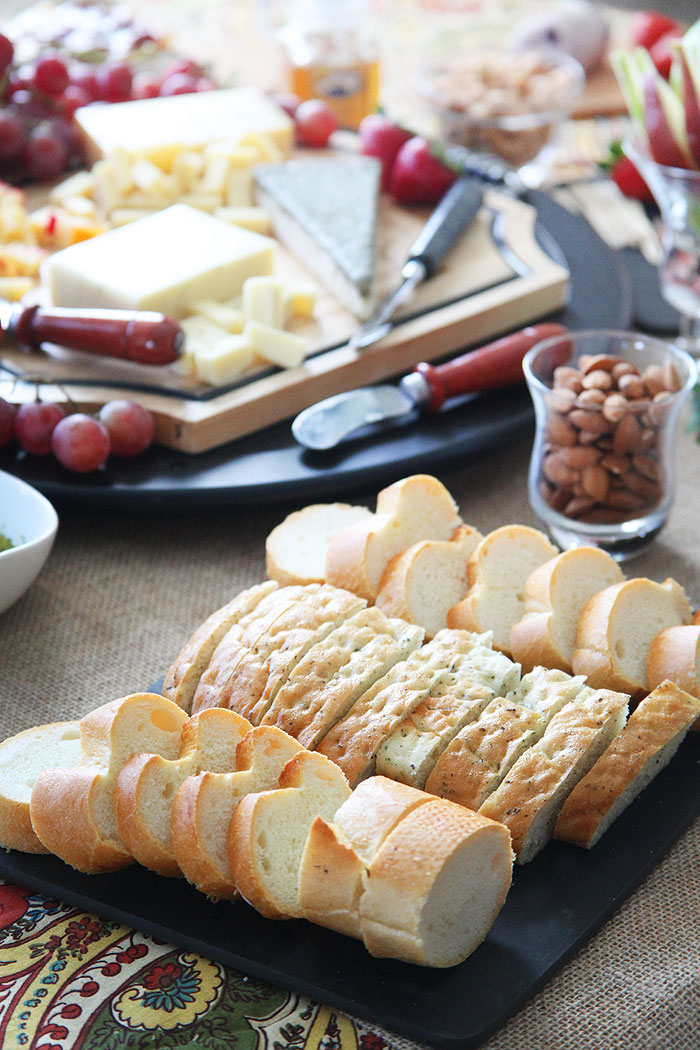 Most people opt for crackers with their cheese.  And if you are serving a cheese plate as an appetizer, before a big meal, this will probably be a great option.  However, if you would like the cheese spread to be your main meal (maybe for a wine tasting party), consider adding various kinds of breads to the table.  Bread can fill up those hungry guests and adding additional bread accoutrements such as olive oil dip and soft cheeses will guarantee that no one walks away from your party hungry.  Also, consider using breads that are "out of the box" and your guests would not normally consider purchasing, such as olive ciabatta any flavor challahs, egg breads, etc.  Of course, have one "neutral" bread that everyone would like such as a french baguette.
Fruit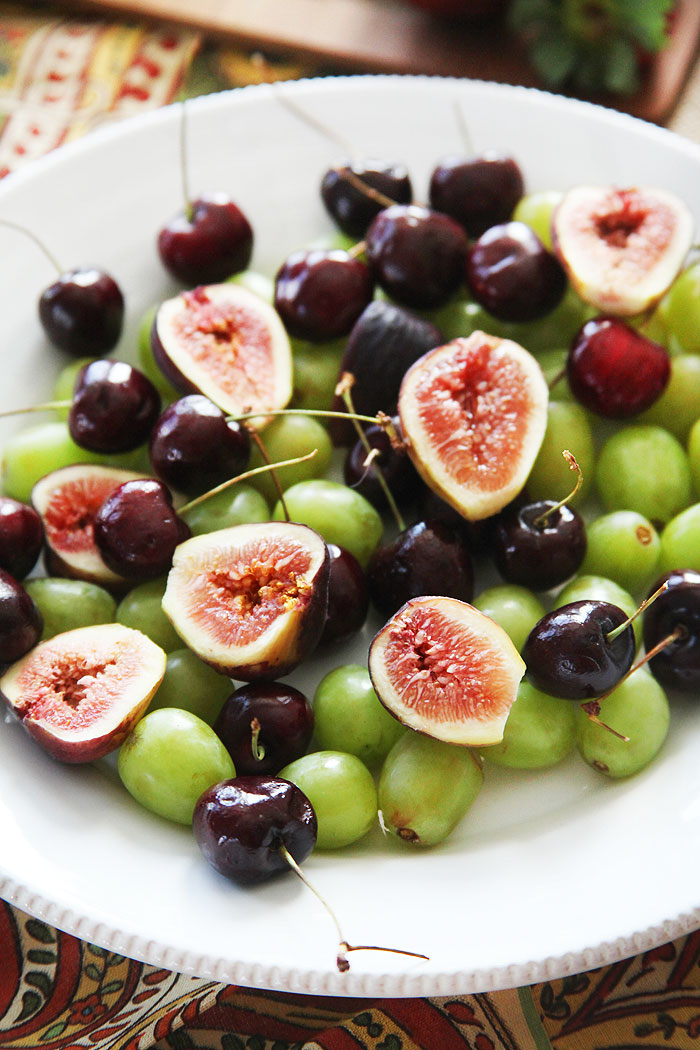 Fruit is a MUST!!  Fruits are beautiful, delicious, and best of all, help the digestive process.  Fruits have always complemented cheese and the best part of creating a cheese platter  is adding fruit which may be out of the box a bit.  Grapes are always great, but fruits such as figs, cherries, and strawberries look beautiful and taste great with cheese.  Of course, doing a bit of research and checking to see which cheeses go with which fruit is always recommended. For example, stay away from any high acid or citrus fruit.  But it's not rocket science so don't overthink it!  And don't forget, dried fruit is wonderful too!!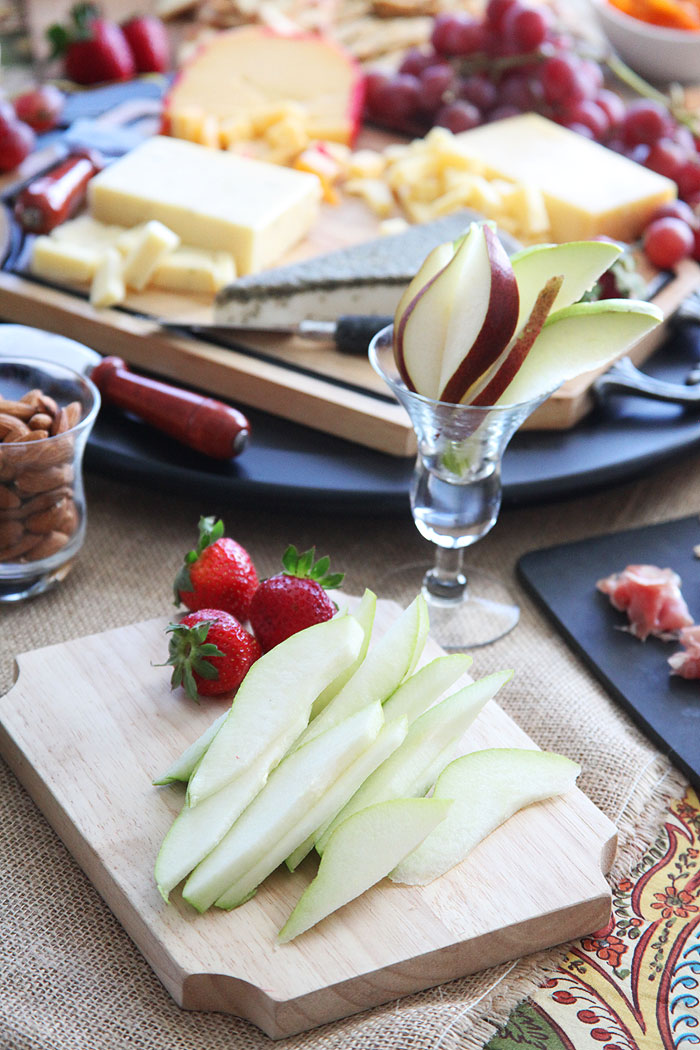 Honey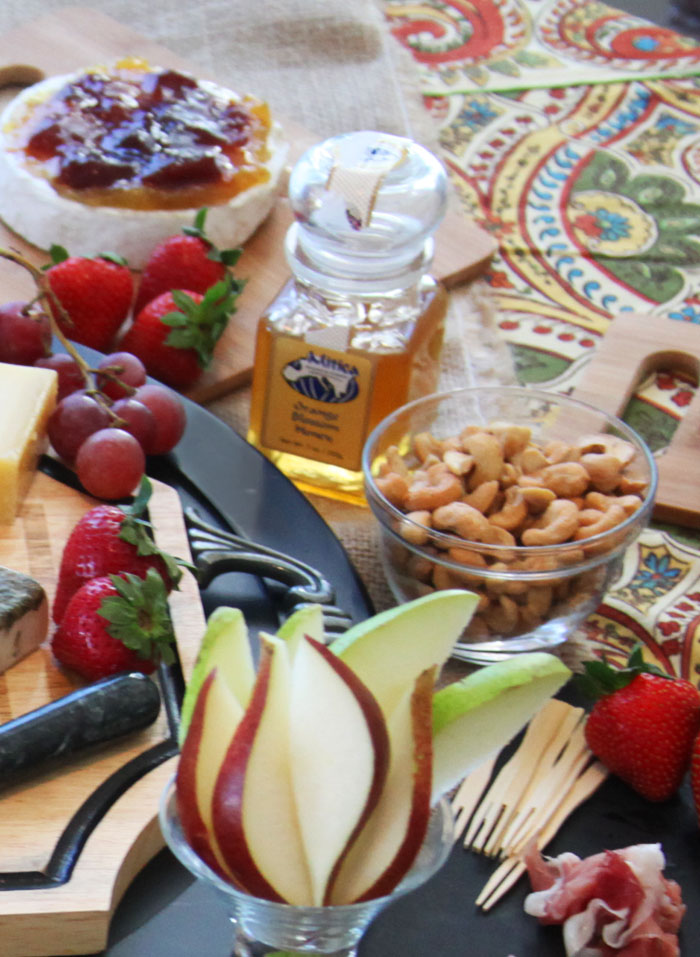 Honey is a wonderful addition to any cheese platter.  It is the perfect juxtaposition of sweet and sour.  Generally, I recommend you use varietal honey which is made from bees who pollinate on just one flower rather than bees that pollinate a bunch of different kinds of flowers.  Also, just drizzle a little honey on the cheese, don't soak it.  A little goes a long way!  
Honeys goes really well with aged cheeses that have a good amount of nuttiness. Parmigiano-Reggiano, a tangy Cheddar, or any of the alpine cheeses (Comté, Gruyère, Appenzeller).  Other sweet and creamy cheeses like ricotta, goat cheese, or feta are wonderful with a citrus based honey.  Don't forget the blue cheeses which are spectacular with honey.  For some, the spicier the better, but you may want to experiment to see what you and your guests like the best.
Other Wonderful Additions:
Pepperoni Chips – Simply place pepperoni slices in your oven at 375 degrees for 5-10 minutes or until they get crispy and serve!
Chocolate – Did you know that dark chocolate and Parmesan cheese have been scientifically proven to work well together.  That's right, scientists have actually proven that these two items are perfect for pairing.  Here's the link to the full article on HuffingtonPost Taste, it's fascinating.  And the good news is that  your guests will be WOWed by your brilliance 🙂  Another cheese you may want to try with chocolate is mozzarella cheese.  But don't over do it, just a small amount will make a huge impression!
Fondue – So many of us think that we have to have wedge cheese on our cheese plate, but a hot delicious and creamy fondue will bring oohs and ahhs!  Plus, they are very easy to make
Nuts – Don't forget the nuts!!  Almost any nut will look wonderful on your cheese plate.  You can do a little research to see which nuts pair well with cheeses, but honestly, it's hard to go wrong.  My ultimate favorites are almonds and cashews.  They work well with most cheeses.
Preserves – Fig preserves are incredible on top of a delicious brie!  Other preserves such as plum, apricot, and even wild blueberry are unbelievable!!   Stop in at your local supermarket or gourmet grocer and talk to the cheese monger about the best pairings for their cheeses.  I find that the people behind the counter can answer all my questions and even teach me a thing or two!  Also, if there is a special gourmet cheese section at your grocer, take a look around to see if other items are displayed.  Many times, the cheese section has all you need to find the perfect preserves.
Things to avoid would be vegetables, spicy foods, heavy garlic flavored crackers and breads, citrus or high acid foods, and Tannic Red Wines.