December is always a wonderful time of year… Christmas lights, holiday parties, reuniting with family, seeing old friends, making new friends, lots of opportunities to use the fireplace, holiday cards,  egg nog, cake, and food, food, food!!!
I think we can agree, December is a month that may be hazardous to the waistline, so when I was invited to come up with some fun ideas for KCTV's Channel 5 Better Kansas City, I thought I would develop a gift that was straight from my heart AND kitchen but also a healthy alternative to cookie or hot cocoa mix in a jar.
PROTEIN PACKED PEA & LENTIL SOUP:
Hold on to your hats, because this soup packs a massive amount of fiber, protein, and magnesium! So easy, delicious, and super healthy! Substitute the beef bouillon cubes for vegetarian cubes, to turn this soup vegan/vegetarian friendly.
1 Cup Dried Split Peas
1/2 Cup uncooked white rice
1/2 Cup lentils
3 Tbsp Minced Onion
3 Tbsp Dried Parsley
3 tsp salt
1/2 tsp pepper
3 beef bouillon squares
1/2 – 1 cup of elbow pasta (pack in a zip lock bag since it will be the last
step in preparation)
DIRECTIONS
1.In a wide mouth 1 quart jar, start layering the peas, rice, and lentils.
Then add the onion, parsley, salt, pepper, bouillon cubes and bagged pasta.
2. Seal with a lid, and place a gift bow on top. Attach a gift card with
ribbon that reads: Add Contents of Jar To 4-5 Quarts of Water. Bring to a boil
and then simmer for 45 minutes, add pasta, simmer for another 15 minutes and enjoy. To elevate this soup recipe, add two stalks of chopped celery, two sliced carrots, 1 cup of shredded cabbage and two cups of diced tomatoes.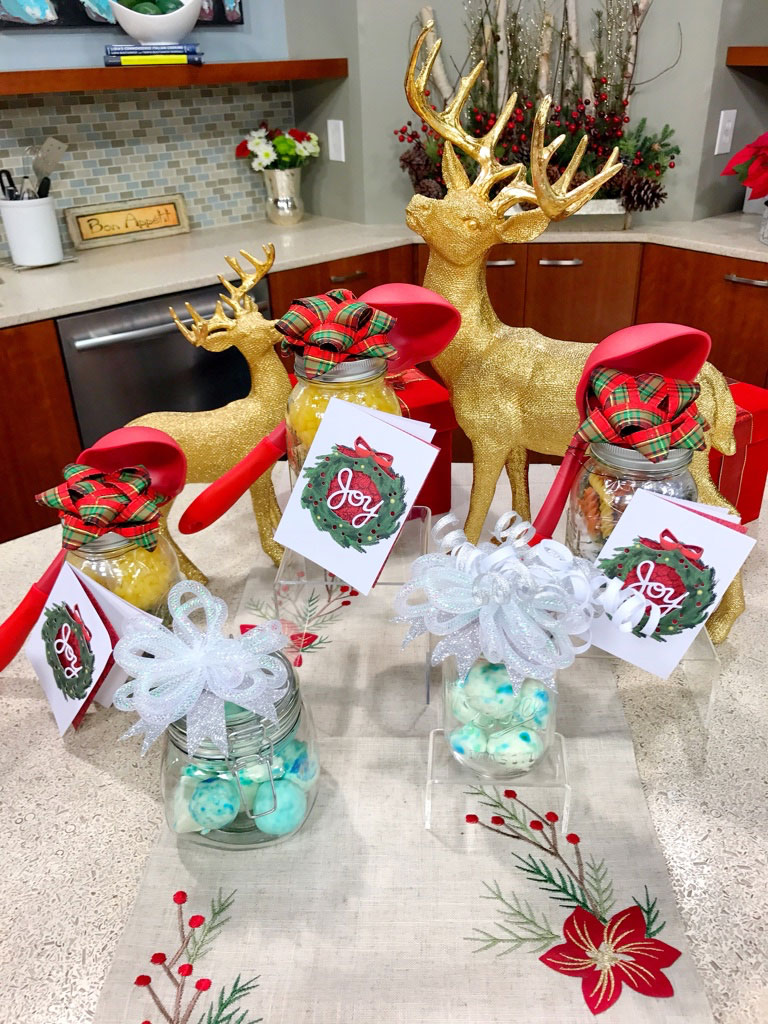 VAPOR RUB SHOWER BOMB
3 tablespoons of VapoRub
1 cup of corn starch
Blue and green food coloring (optional)
3 tablespoons of water
Mixing bowl
Wax paper
Spoon
DIRECTIONS
1. In a bowl add in the three tablespoons of VapoRub. You can use any variety of VapoRub you wish.
2. Stir in the cup of corn starch. Mix well. You will notice that the
VapoRub takes a little time to soften. Continue to stir until it becomes a
thick paste.
3. Add in the two tablespoons of water. The goal is to make a paste that can
easily be manipulated with your hands, since you will be creating balls out
of it. Once you see that your mixture is thick enough to work with, it may
be a good time to stop. If you pick it up and try to shape it and it falls
apart, it needs a little water. If it can't hold a shape, it has too much
water, so add more cornstarch.
4. When your mixture is the right consistency, add several drops of green
and blue food coloring. Continue to stir. This step makes the Shower bombs look like they have mint and spearmint in them, a little visual trick.  But if you prefer to omit the food coloring, feel free. 
5. Once the color is mixed in well, scoop the mixture into your hand. It
will have a play dough feel to it. Knead it into a ball and set on a piece
of wax paper.  For a square look, pack the mixture into an ice cube tray and freeze. When frozen, cut each rectangle in two to create smaller squares. 
6. Place in a freezer for 20-30 minutes and then put in a jar. If this is
a gift, include direction on the gift tag to place directly on the drain of
the bathtub while taking a shower. You don't want the ball to be floating
in the bathtub water during the shower, since it can make the bathtub slick.
Placing it directly on the drain will make sure that it will melt directly
in the drain.