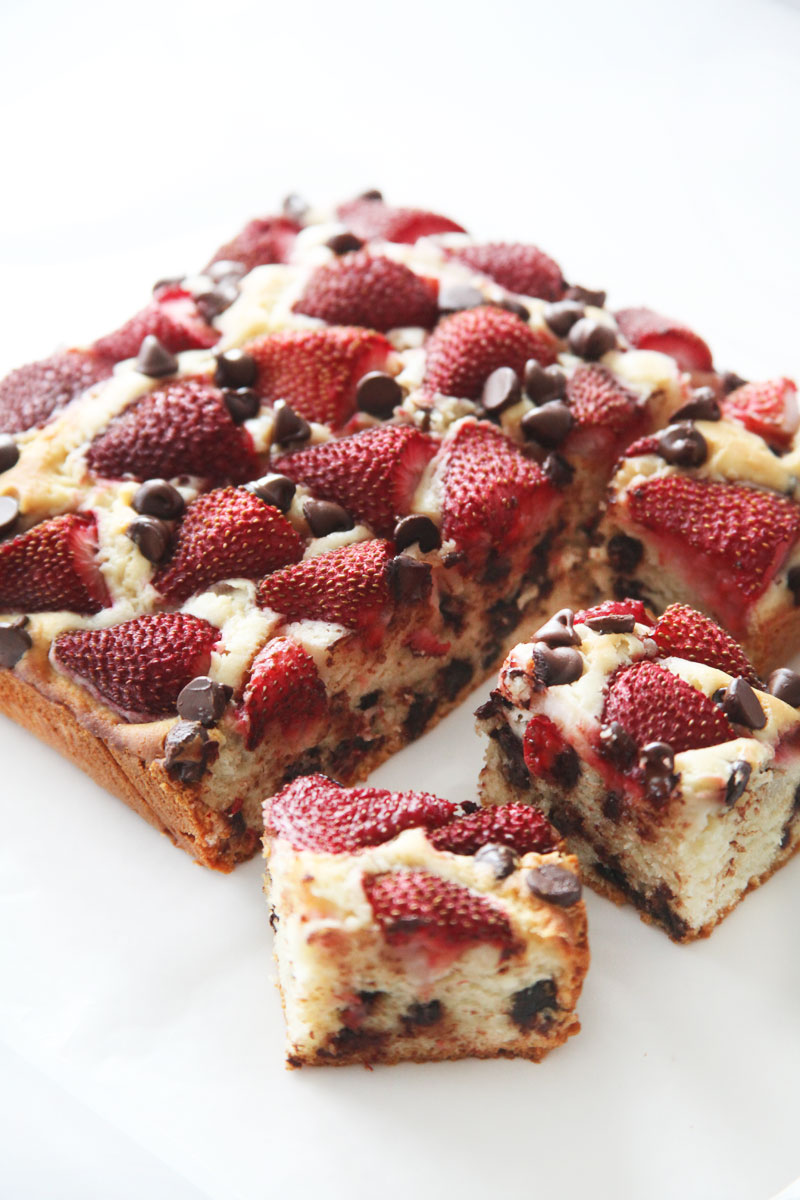 I want you to prepare yourself for a dessert that's not only beautiful but absolutely delicious!  This strawberry chocolate chip cake is fabulous alone or with a scoop of ice cream.  I made it for my husband because I realized I had a lot of strawberries left over and wanted to bake something delicious.  I found this recipe on Pinterest which led me to Julia's Album.  She has a great web site with many great recipes.  I think she originally got it from Martha Stewart and tweaked it a bit.  Of course, I have tried many things on Pinterest that turned out to be disasters, but not this time!  My cake turned out fabulous! Julia used a springform pan, I just used a 9×9 square pan.  Mine turned out beautiful but I'm sure it would turn out even better in the springform.
This is what the cake looked like going into the oven.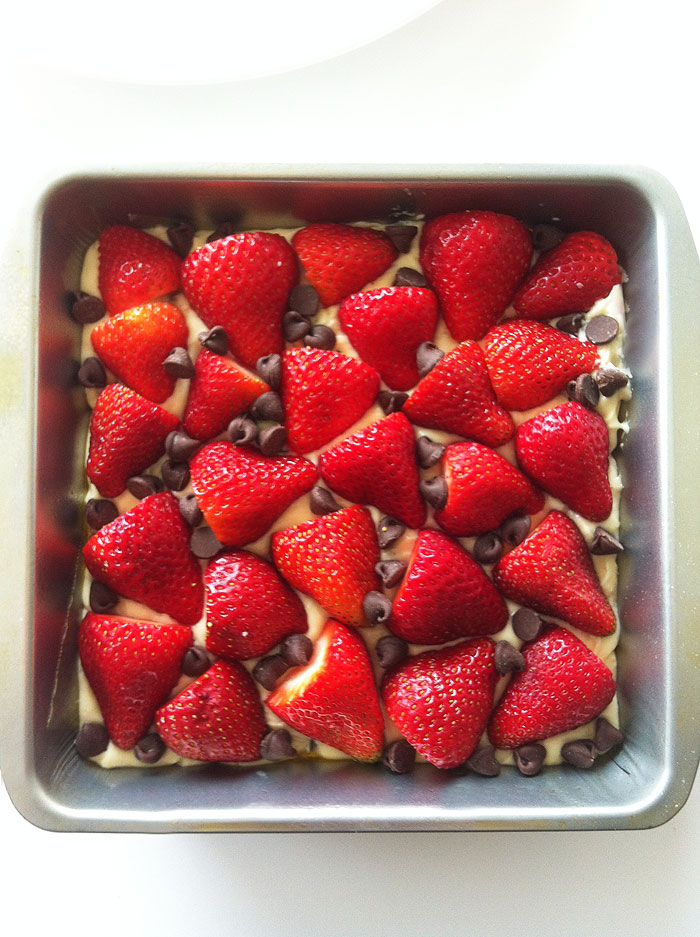 This is what it looked like when it came out of the oven.  Obviously the strawberries are a little less vibrant, but still delicious!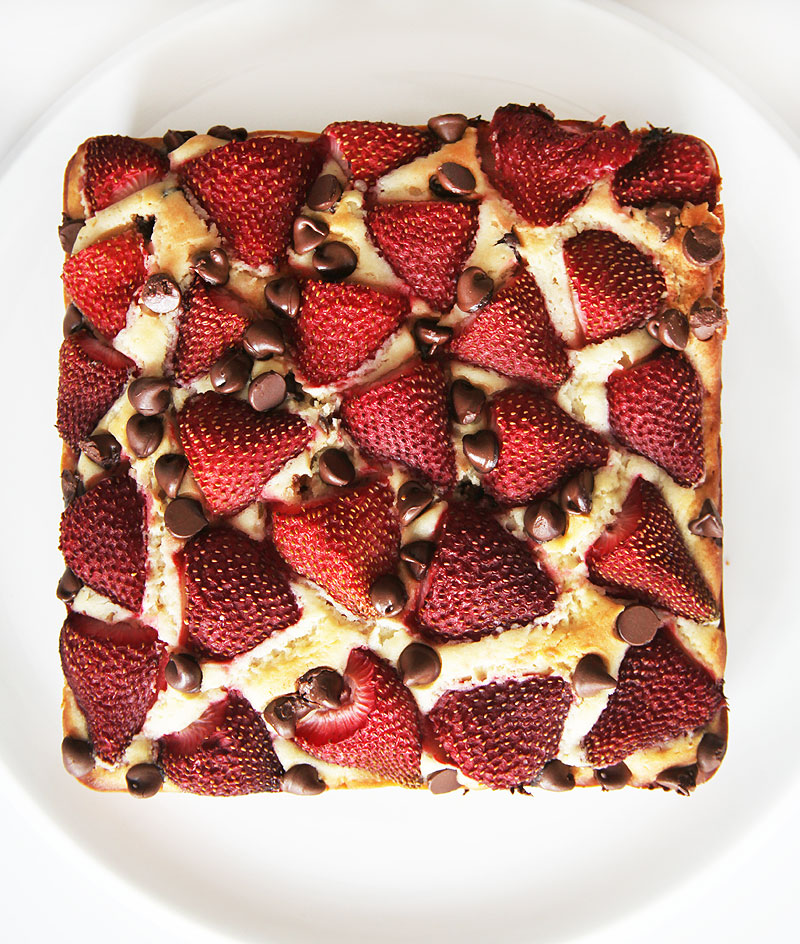 Ingredients
1 and 1/2 cups all-purpose flour
1 and 1/2 teaspoons baking powder
1/8 teaspoon salt
3 tablespoons unsalted butter, softened
3 tablespoons Greek yogurt
1 cup sugar
1 large egg
1/2 cup milk
1 teaspoon pure vanilla extract
1/3 cup chocolate chips plus more for sprinkling the top of cake
1 pound strawberries, hulled and halved
Instructions
Heat oven to 350°F. Line the bottom of a 9×3-inch springform pan with parchment paper and spray cooking spray. Or you can use a 9×9 brownie pan and spray with cooking spray.
Sift flour, baking powder, and salt together into a medium bowl.
In a separate large bowl, combine butter, Greek yogurt, and 1 cup sugar and, using electric mixer, beat on medium-high speed until light and fluffy – no more than 2 minutes.
Reduce speed to medium, mix in the egg, beat until light and fluffy. Then mix in milk, vanilla.
Keeping the mixer speed low, mix in the flour mixture, gradually, just until combined. Do not over mix.
Fold in chocolate chips into the batter. Transfer batter to springform pan. Arrange strawberries on top of the cake, cut sides down and close together. Place chocolate chips in spaces in between.
Bake cake for about 1 hour until the top is golden brown and the tester comes out clean. In the last 5-10 minutes of baking, you can take the cake out of the oven and sprinkle some more chocolate chips on top, pressing them lightly into the top of the cake (the top of the cake will already be baked and a bit crusty) – it will make for a nice presentation. Return to the oven for 5-10 more minutes, to allow chocolate to melt a bit and look even nicer!
When the cake is done baking, let it cool (still in the baking pan) on a wire rack. After cake has cooled for about 40 minutes, release the cake from the springform pan. At this point, if the cake is cool enough, you can slide your hand under the cake, between the parchment paper and the bottom portion of the springform pan and move the cake with the parchment paper attached to its bottom onto a cake plate easily.
Notes
Adapted from: Martha Stewart
Storage tips: Because strawberries tend to make any desserts overly moist, this cake is best kept refrigerated. When refrigerated, it keeps very well for at least 1 week, and tastes just as fresh! It tastes pretty good cold, and you can also microwave it for 10 or so seconds to melt the chocolate chips.
Freezing tips: This cake freezes very well. Cool the cake completely. Tightly wrap the cake in plastic wrap, make sure it's airtight. Freeze for up to 1 month.