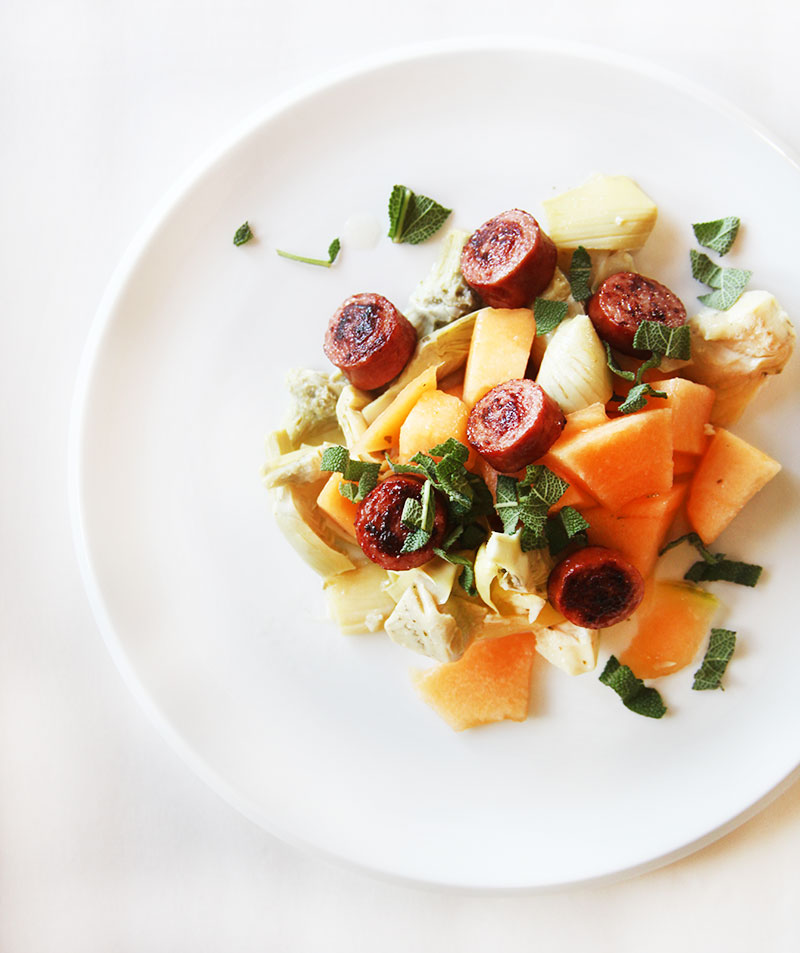 If you are looking for a salad that has a combination of interesting and delicious ingredients, this salad is FOR YOU!!  This Melon, Turkey Sausage & Artichoke Salad, is a perfect blend of hearty, fruity, and salty!  The addition of the Terragon is a wonderful little surprise at the end.  If you love all these ingredients, don't hesitate for a minute to combine them!
Ingredients
1 can/jar Marinated artichokes
2 tbso Extra virgin olive oil
1/2 cantaloupe
1 pkg turkey sausage
fresh tarragon
Dressing
3 tbsp extra virgin olive oil
1 tbsp red wine vinegar
1 tsp prepared mustard
Preparation
To prepare lemon, cut in half and scoop the seeds out with a spoon. Cut the flesh into cubes and set aside. Remove the marinated artichoke hearts from jar and drain. Remove sausage from package and slice. Heat olive oil in a pan and add sausage. Fry until sausage is ready and allow to cool a few minutes. In a bowl, combine artichokes with melon, and sausage. Sprinkle with a generous amount of tarragon. For dressing place all ingredients in a small bowl and whisk together. Pour dressing over the prepared salad and toss well. Garnish with more tarragon and enjoy.